Alexander Archipenko
Kiew 1887 - New York 1964


Alexander Archipenko was born in 1887 in Russia. He left Russia in 1908 and moved to Paris where he associated with avant-garde artists like Pablo Picasso, Georges Braque and Amedeo Modigliani. After first exhibitions at the Salon d'Automne and with the Indépendants, at the age of twenty-four, he founded his own art school.
His life was determined not only by his incessant creativity as a sculptor but also by fervent art educational activities. In art history Alexander Archipenko is referred to as the "Picasso of sculpture" as he played a crucial role in introducing Cubism to sculpture. As early as 1910 he produced expressive forms, still figurative, but with a tendency towards abstraction. After 1910 Archipenkos forms show sharp, broken contours and are clearly influenced by Cubism. Later, the Italian Futurism inspired him to kinetic compositions with organic or technical forms. At the same time Archipenko also developed his so-called "sculpture-painting", reliefs made of wood, cardboard, metal and glass.
Archipenko moved to the United States in 1923. After concentrating on the decorative effects of sculpture during the 1930s he attempted an approach to the immaterial in the middle of the 1940s: He began "modelling light" and created plastic sculptures illuminated from the inside.
Alexander Archipenko died in 1964 in New York.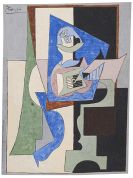 Pablo Picasso
Guéridon, guitare et compotier
277,500 $
Details